Martin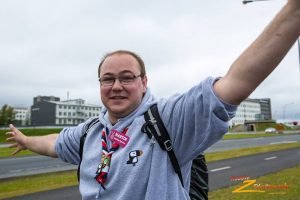 Martin joined Scouts as a Beaver in 1997 and, despite threatening to quit at least once a month for the last five years, hasn't managed to escape since.  He attended his first international event in Hungary in 2006, before attending the 21st World Scout Jamboree, at Hylands Park, Essex in 2007.  This was the start of a long love affair with International Scout Camps, with every summer of the last 11 years, bar two (damn 2020…), having at least one international camp somewhere.  Martin has attended two World Scout Moots, one as a participant (2013) and one as IST (2017) and 4 World Scout Jamborees, one as a participant (2007) and three as IST (2011, 2015 and 2019).  He also planned, organised and ran an Explorer Belt Expedition, sponsored by Devonshire Scout Network in the summer of 2014, as well as taking his Young People to several UK based International events.
In short, he's been there, done that and has the commemorative badge set to show for it.
Martin's day-to-day role in Scouting is as the Group Scout Leader of the First Glasgow Scout Group and has recently taken up the mantle of District Advisor (Health and Safety).  He has held a selection of Section Roles, running a Scout Troop for several years, and a few District Positions.  In his "real" life Martin is a Photolithography Process Engineer for a III/V Semiconductor company, after five years working as an Explosives Chemist and dreading flying anywhere.  As well as attending international Scout camps, his hobbies include playing a menagerie of musical instruments, including the guitar, mandocello and mandolin, his N Gauge Model Railway "Loch Doon", and Wargaming.