Martin's Top Tips is a collaborative effort of three main contributors and editors, with the occasional guest writer.  This is your chance to meet the team.  Collectively, the team has attended seven World Scout Jamborees and five World Scout Moots, as well as dozens of other smaller events.  They represent both Scouting and Guiding and have experience of roles ranging from Assistant Section Leader to District Commissioner and Assistant Area Commissioner.  Their IST roles have equally been as varied, from Food Distribution Warehouse Supervisor to Comms and Media Team to Life-guarding.
Between them, they have been there, done that and got the commemorative badge set to remember it by.
Martin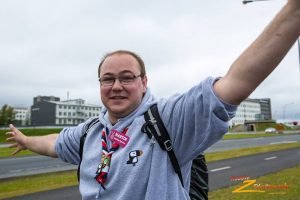 Martin joined Scouts as a Beaver in 1997 and, despite threatening to quit at least once a month for the last five years, hasn't managed to escape since.  He attended his first international event in Hungary in 2006, before attending the 21st World Scout Jamboree, at Hylands Park, Essex in 2007.  This was the start of a long love affair with International Scout Camps, with every summer of the last 11 years, bar two, having at least one international camp somewhere.  Martin has attended 3 World Scout Jamborees, one as a participant (2007) and two as IST (2011 and 2015), and two World Scout Moots, one as a participant (2013) and one as IST (2017).  He also planned, organised and ran an Explorer Belt Expedition, sponsored by Devonshire Scout Network in the summer of 2014.
Martin's day-to-day role in Scouting is as the Group Scout Leader of the First Glasgow Scout Group and helps with Young Leader Training within his District.  He has held a selection of Section Roles, running a Scout Troop for several years, and a few District Positions.  In his "real" life Martin is a Development Chemist at an undisclosed location in North Ayrshire, working on things he probably shouldn't talk about, but almost certainly will after a few drinks.  As well as attending international Scout camps, his hobbies include playing a menagerie of musical instruments, including the guitar, mandocello and mandolin, wargaming and military history.
Part of the commitment to the UK IST for the 24th World Scout Jamboree is to commit to three Personal Development Goals.  For Martin these are:
Complete his Wood Beads for his GSL role
Dramatically improve his fitness and loose weight to make sure he can fully enjoy everything the Jamboree experience has to offer (and generally be healthier!)
Support the UK Contingent attending the event as far as possible through sharing his skills, knowledge and experience.  He hopes to leave a legacy of advice and Top Tips based on his own experiences and mistakes that can be built upon to help prepare future Contingents to the 2023 Jamboree in South Korea and beyond.
Matthew
Matt's been in Scouting since being a Cub, he never went to a Jamboree as a Participant but has been to the last two as a member of the IST, working as Security in Sweden and then on the UK Contingent Media Team in Japan. This is on top of a whole raft of other international camps, including World Scout Moots, Roverway, District Camps in the Middle East, plus plenty of others. One of his proudest times in Scouting was helping establish a British Scouting Overseas, Cub and Beaver group in Prague while he lived in the Czech Republic, that's still thriving to this day! (www.facebook.com/praguescouts)
Matt's main role in Scouting is as Deputy Area Commissioner for British Scouting Overesas (www.britishscoutingoverseas.org.uk), where he's responsible for encouraging Youth Shaped Scouting, supporting higher awards, building up Network and any other miscellaneous jobs that need doing. As well as with British Scouting Overseas, he gets his weekly meeting fix as an Assistant Explorer Scout Leader in Manchester. Outside of Scouting, Matt is a Producer for a Foundry 42, a video games developer working on the space exploration game Star Citizen, previously he's worked on DayZ and Arma 3.
Outside of Scouting, you'll generally find me travelling around the world on a series of weekend trips, curled up in a hammock and bivvy bag on the side of a mountain or
His top three development goals for the Jamboree are;
Learn to play the Guitar or Ukele, at least three songs including Wonderwall and Country Roads
Continue to lose weight, the dream is to have abs for next summer!
Work on trying to instil knowledge to some of our young members of our Contingent and pass on some of my mistakes so other people can learn from them.
Lyndsey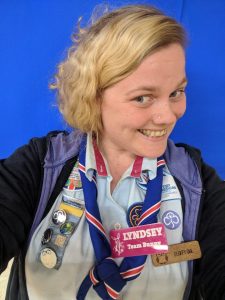 Lyndsey joined Guiding aged 5 as a Rainbow and has never quite got round to finding a different hobby.  After taking part in several UK based Jamborees and events, she took the plunge and signed up to attend the 14th World Scout Moot in Canada, 2013, as this would be her last chance to be a participant.  Here she was bitten by the international bug and signed up to attend the 23rd World Scout Jamboree in Japan and 15th World Scout Moot in Iceland, both as a member of the IST.  In Japan, Lyndsey joined the Life Guarding team, working to keep people safe on the beaches, in Iceland she worked on the site services and staff catering team, taking extra special care of participants and IST with special dietary needs.
Lyndsey's day to day job in Guiding is as a Brownie Leader (Fluffy Owl) having previously been District Commissioner and Senior Section Leader.  In her real life, Lyndsey spends most of her time in various states of camping/glamping and caravaning within her job as an Intensive Support Worker for Children in Care.  She is a self declared expert packer and her proudest achievement to date is packing her tent into its original bag with enough room left over for her sleeping bag!
Lyndsey is committing to a number of Personal Development Goals.  Her top three are:
Improve basic foreign language skills
Work better as part of a team
Quit smoking.